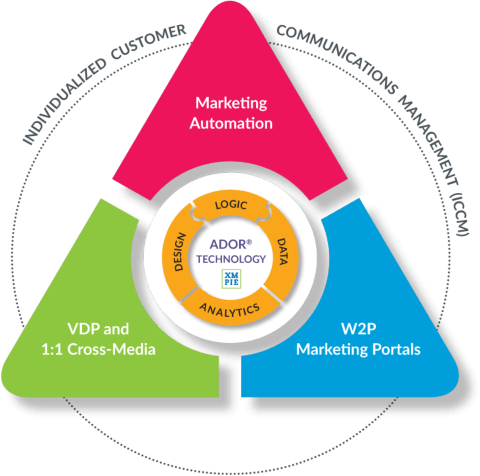 XMPie was founded with a vision to integrate the world of print and digital media and make it easier for every business to create and produce personalized communications.
Our solutions cover three main application areas – Media Personalization, Web-to-Print Portals and Marketing Automation – all united through a common technology foundation. The XMPie architecture uniquely employs a modular approach where data and business rules are shared across multiple channels. Whether a campaign consists of print alone or a combination of print and digital media – with XMPie, data is always synchronized across all the channels enabling a truly holistic brand experience.
EXPLORE ALL PRODUCTS
DATA DRIVEN PRINT AND VDP
Power your documents with variable data.
CROSS MEDIA
Extend your reach across multiple channels
WEB-TO-PRINT
Sell print online 24/7 - on demand
CAMPAIGN MANAGEMENT
Plan, visualize and automate multichannel campaigns
SERVICES
Extend your value and capabilities
CREATIVE TOOLS
Personalization tools for every channel
An Integrated Multichannel Solution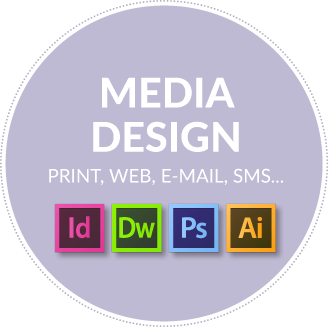 The XMPie platform is flexible and built for growth. While other solutions can bring you to an impasse when more capabilities are needed, XMPie can be easily ramped-up or extended. Our software is complemented by a rich set of API's that can be leveraged to enable integrations with third party systems such as CRM, ERP, MIS or DAM or other internal home-grown systems.
The core of the XMPie approach is a Modular Integration of Data, Logic, and Design
Modular
Either Data, Logic, or Design can be changed or replaced without forcing a change in the other two. The Data and Logic are shared for all touchpoints. Everything is brought together just in time for output production.
State-of-the-art:
Use the latest technologies and industry-standard design tools to create a best-in-field Design. We work with Adobe InDesign for Print media and any leading solution you prefer to create Digital communication touchpoints.
Design is Media-specific:
Logic and Data is shared across all channels even without a common Design
Open XM Technology
XMPie introduces a novel breakthrough approach for integrating Digital Media in Cross Media communications. With Open XM technology marketers now have the freedom to fully leverage state-of-the-art Web, email, and mobile media technologies while still ensuring that all personalized touch-points in the communications stream – Print and Digital – are synchronized perfectly.
Deliver on the promise of modern, integrated and consistent brand experiences, across all channels, with no tradeoff in media capabilities, presentation or design.  Step into personalized digital design and development with today's leading web technologies and tools, such as AngularJS, jQuery, JavaScript, HTML5 and CSS3, to create responsive design web content, mobile-friendly landing sites, single-page applications and more.  Create cutting-edge personalized email and web experiences that are fully integrated with XMPie print personalization and data technologies.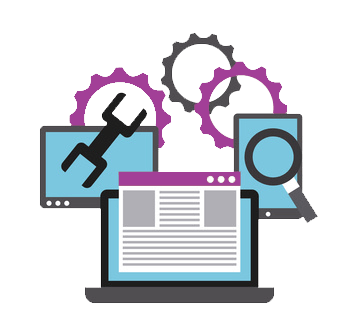 Open XM does not require the use of any proprietary design tool
Use Open XM to personalize your digital touchpoints with any web design tool you choose.
Simply add the Open XM code snippet to your html code
Open XM uses "page tags" to invoke the Data / Logic layer.
Create personalized sites through different scenarios or workflows
Including:
Pure HTML based personalization through tagging HTML code
Web-pages that use JavaScript to incorporate personalization
Apps that introduce personalization by making API calls directly to the Server