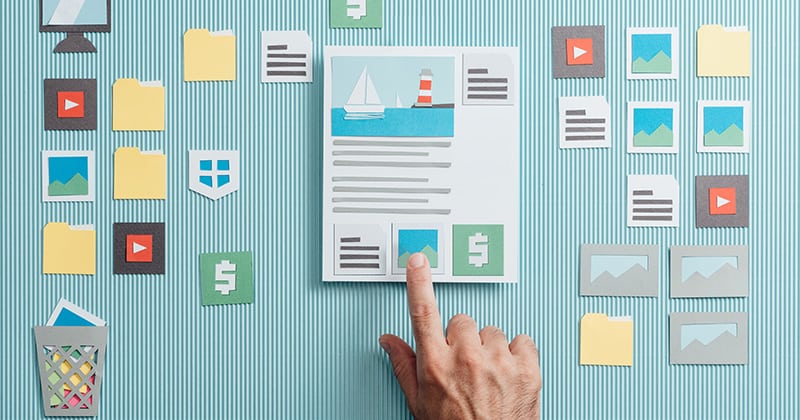 When it comes to VDP – data, logic, and design are critical elements for success. But different VDP solutions use these elements to create variable data pieces in very different ways.
In this post, I'll explain our method for creating both simple and advanced VDP communications with our XMPie plugin to Adobe InDesign and how this approach differs from other solutions on the market.
VDP for Print and Digital Output
The terms, 'VDP or 'variable data publishing', 'document composition' and 'personalized print' are very interchangeable and invariably mean the same thing. However, many applications, and especially those that are more focused on transactional or complex documents talk about 'developing' documents or templates. Many of these also talk about using WYSIWYG editors and programming the logic, personalization, and relevancy into the pieces.
During these conversations the talk is mostly about 'print' – that is to create templates for the batch output of personalized pieces to the digital presses.
But in today's market Service Providers and Enterprises also need to provide the digital output from the same platform – that is to create 'PDF-on-demand' or to create individual PDF files for archiving.
Customer Data

In every dynamically produced and personalized piece of print, such as a financial statement or a direct mail piece, there is an absolute need for data. Customer data, marketing data, transactional-based data or indeed ANY data. This data is unique to each individual and is a critical element driving the communication – what text is displayed, what images, which offers etc. Commonly a professional 'Developer' is tasked with bringing the data and the design together.
In fact, within many organizations today there is the outdated assumption that you need a skilled programming operative to create very complex pieces of variable data communication; that such a professional is needed to handle the data, to program the business logic and rules and to construct the final document.
This way of doing things can be both expensive and resource-intensive because the developers become the custodians of the whole process. if you need a change to the logic, you need them. If you need a change to the design, you need them. If the data changes, you need them. It's great if you are the developer – but not so great if you are on the outside paying the bills!
Data, Logic, and Design
This is how XMPie is different because the XMPie approach is a modular integration of data, logic, and design. Either the Data, Logic, or Design can be changed or replaced without forcing a change in the other two. The Data and Logic are shared for all touchpoints. Everything is brought together just in time for output production.
We have always done it this way because we have always been focused on being able to reuse data and logic across ALL channels – not just print.
ADOR Technology
Our solutions don't require programmers to operate them. Rather, it is the designer who can create even complex variable documents. Instead of programming in the data and logic, the designer can use XMPie's dynamic object ADORs to modify aspects of the document design for versioning.
ADOR stands for Automatic Dynamic-Object Replacement. These ADORs are little snippets of data and logic that can be used at any time, in any media in a variety of ways. ADOR types include text, graphics, links, visibility, styles, and tables. They are unrelated to the type of data in the data source.
ADORs help designers to design advanced variable data communication pieces just by using them – not by programming each instance of them.
Watch this video to learn more about ADOR Objects 
As and when the designer might need to manipulate the data or logic to create these ADORs, s/he can do so by using a separate tool, away from the design.
It's this marriage of Design and our ADOR technology that allows XMPie to excel when it comes to advanced VDP creation.
XMPie and Adobe InDesign CC
Our VDP software works as a plugin to the industry-leading page design and layout software, Adobe InDesign. The designer can add ADORs and personalize stylish typography, rich graphics, images, tables, barcodes and more to create dynamic pieces that span different pages and layouts. All from one familiar tool. The design won't need to be compromised for the sake of adding variability to create personalized documents – the native quality of InDesign will be carried through all elements of the document.
Because XMPie is built into the InDesign application the designer can output different individualized versions on-mass via a print stream, such as PDF/VT for high-speed printing. Or because XMPie produces an InDesign template, the designer can also output to individual PDFs, without needing to change anything on the document. This can be a PDF that is delivered for archiving or a PDF that is delivered on-demand as and when the recipient requests it. All from the same platform and from the one template.
For example, the combination of data and logic can drive the creation of a financial proposal package, to be delivered physically to each policyholder along with a PDF-version that can be delivered on-demand via an online experience, or even simply a PDF, to be stored for archiving.
Advanced VDP Webinar
We recently held a webinar about our advanced VDP techniques. If you missed it, be sure to watch the replay here to learn more about techniques for handling:
Content flow across spreads (booklets)
Creating dynamic Tables of Content (ToC)
Dynamic page numbering
Aligning chapter starts to left or right pages
Adding content to blank pages
Adding/removing pages to suit print signatures
Using data-driven tables
Adding Barcodes / Optical Mark Recognition (OMR)
White Space Management
Mixplex Printing
Do you have any questions about creating advanced VDP documents? Send us a note below.