In recent years, companies have been shifting more attention – and marketing dollars – to personalized campaigns. According to a recent article by The Financial Brand, "The next few years will see further growth in personalized communications that go beyond letter salutations and toward one-to-one communication with individual prospects and customers".
The rationale behind this trend is obvious: personalization helps grab recipients' attention with something that stands out from the clutter, improving response rates and the overall likelihood of the campaign success. But what exactly does it mean to run a personalized campaign, which elements can and should be personalized, how does an effective personalized campaign look like and what are the challenges in running such a campaign? Let's try to take a look into each of these questions.
First, personalizing a campaign goes beyond just plugging the recipient's first name at the top of an email or direct mail item. Personalization is about customizing every relevant element of the campaign to each recipient. This customization is done using a combination of traditional segmentation (gender, age group and geo-location) as well as personal data, such as past purchases, product categories of interest, and customer status.
When done properly, the End-of-Summer Sale campaign for a retail chain may include a self-mailer featuring an elegant woman, promoting fashion garments by high-end designers – while others will see on the same self-mailer a young soccer-mom standing next to her minivan, with coupons for children's clothes and Halloween costumes.
So relevancy is key, but it's just one component of a personalized campaign. The other is delivering consistent content and tone across all channels throughout the customer journey. The mailer can do a good job promoting certain items, but will be much more effective when coupled with a personalized email linked to a personalized eCommerce site. All these elements should be laid out as part of the omnichannel campaign plan, clearly detailing in advance all touch-points across potential customer journeys, based on recipient interaction with the campaign.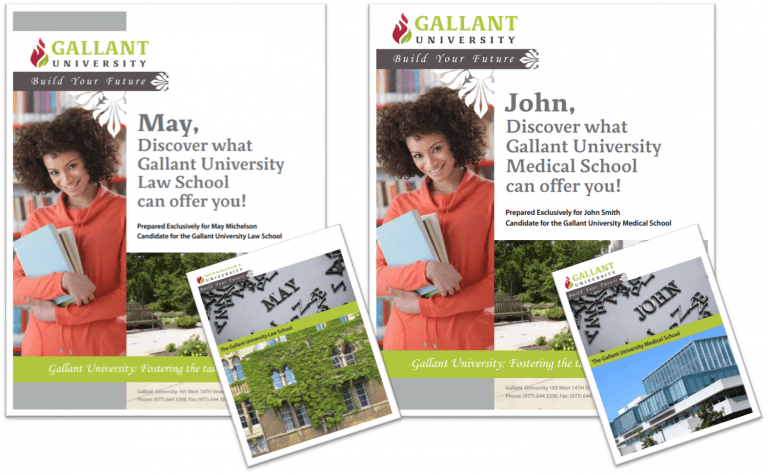 There are two main premises for running an effective personalized campaign. The first is working with the most up-to-date centralized data source, detailing relevant parameters that can be used to deliver differentiated offerings. It includes the challenge of deciding which campaign elements to personalize – something that requires solid knowledge of your customers' business, understanding their product offering, market trends and competition.
The second is having the right tools at your disposal. Your marketing automation platform must allow you to plan and cover all customer touchpoints, both digital and physical, in one holistic view. This is where XMPie PersonalEffect TransMedia comes in, enabling you to plan, execute and analyze personalized campaigns, delivering true one-to-one communications.

Examples of personalized direct mail in retail and in real estate. Offerings are customized based on past purchases, preferences and budget
The power of personalization transcends across ages and verticals. Personalization isn't just for millennials, nor is it limited just to digital communications. It should be incorporated in each facet of your campaigns. The psychological mechanism that a personalized message evokes is sure to resonate more than an equivalent generic message – no matter if the sender is offering a car lease, a student loan, or a coupon for a fast food chain.
When used as part of an omnichannel campaign that revolves around the customer and the customer journey, a personalized campaign can result not just in increased sales – but also in longer term success factors such as customer loyalty and improved market positioning.