As you've seen in our string of blog posts in this series, each stage in the customer lifecycle provides an opportunity for the brand to interact with the customer in a way that builds consumer-brand relationships.
We've now hit the 'usage' stage of the lifecycle. This is the point at which the brand will want to encourage its customers to get the most out of their products — to use them as often as possible as well as to try new ones within the brand.
We're going to look at three different promotional campaigns as examples of how personalized elements can keep customers engaged with the brand and strengthen the overall response rate of the campaign.
In these promotions, we leverage several different media touchpoints to create a dialogue that is relevant and individualized to the customer. In XMPie's example, Pressocup, a manufacturer of high-end coffee machines and coffee pods, can be very creative with its design of customer-facing materials due to XMPie's integration with Adobe® tools for print media and our Open XM™ technology for digital media.
Personalized Videos
The goal of this campaign is to encourage customers to subscribe to a service that regularly delivers their favorite coffee flavors. Pressocup knows what its customers prefer since that information was collected when the customer registered his or her product (see our previous demo for the 'purchase' stage of the lifecycle). Pressocup is also tracking the buying habits of its best customers. Now the company can use this information to turn its customers into loyal patrons.
Pressocup decided to offer a discount for customers subscribing to the coffee delivery service. But the company went a step further – it chose to delight its customers by presenting the offer in a personalized video created for each customer individually. Besides adding a WOW factor, the personalized videos command more attention and deliver better results.
Customers are sent a personalized email. When customers open the email, they are welcomed with a large personalized banner image inviting them to watch their video.
When embedding a video in a webpage, it is also possible to have personalized HTML interact with the video. For example, you could overlay the video with a personalized HTML button at a specific point and link to a special offer for the customer or to a personalized PDF. This is possible because XMPie shares the data and logic across all touchpoints in a campaign so the same personalization values can be used in both the video and the HTML.
Personalized Direct Mail
This campaign's goal is to advertise a new product to customers and encourage them to try it. Here, Pressocup makes use of personalized direct mail pieces to announce their newest coffee flavor – Honduras Bold – and to offer their customers five free coffee capsules.
To grab the customer's attention, great care was taken to design an interesting mail piece that creatively uses the customer's name and "spells it out" in a specially designed coffee-bean image-font. This example uses unique technology by XMPie, called uImage, which allows the creativity of design that is possible in Adobe Photoshop to be used in tandem with data variability, creating striking effects.
The print piece includes a call to action that sends the customer to a personalized URL (PURL) to receive their free coffee. They can either type in the URL to their browser or scan the QR code to receive the offer.
Once the customer reaches their personalized web page, they're greeted with a rotating banner image with the coffee machine they currently have along with a image of a cup of coffee with their name written in the froth. Below the banner image is a pre-populated form with the customer's information, so all they have to do is hit the submit button to receive a PDF on-demand coupon for free coffee capsules.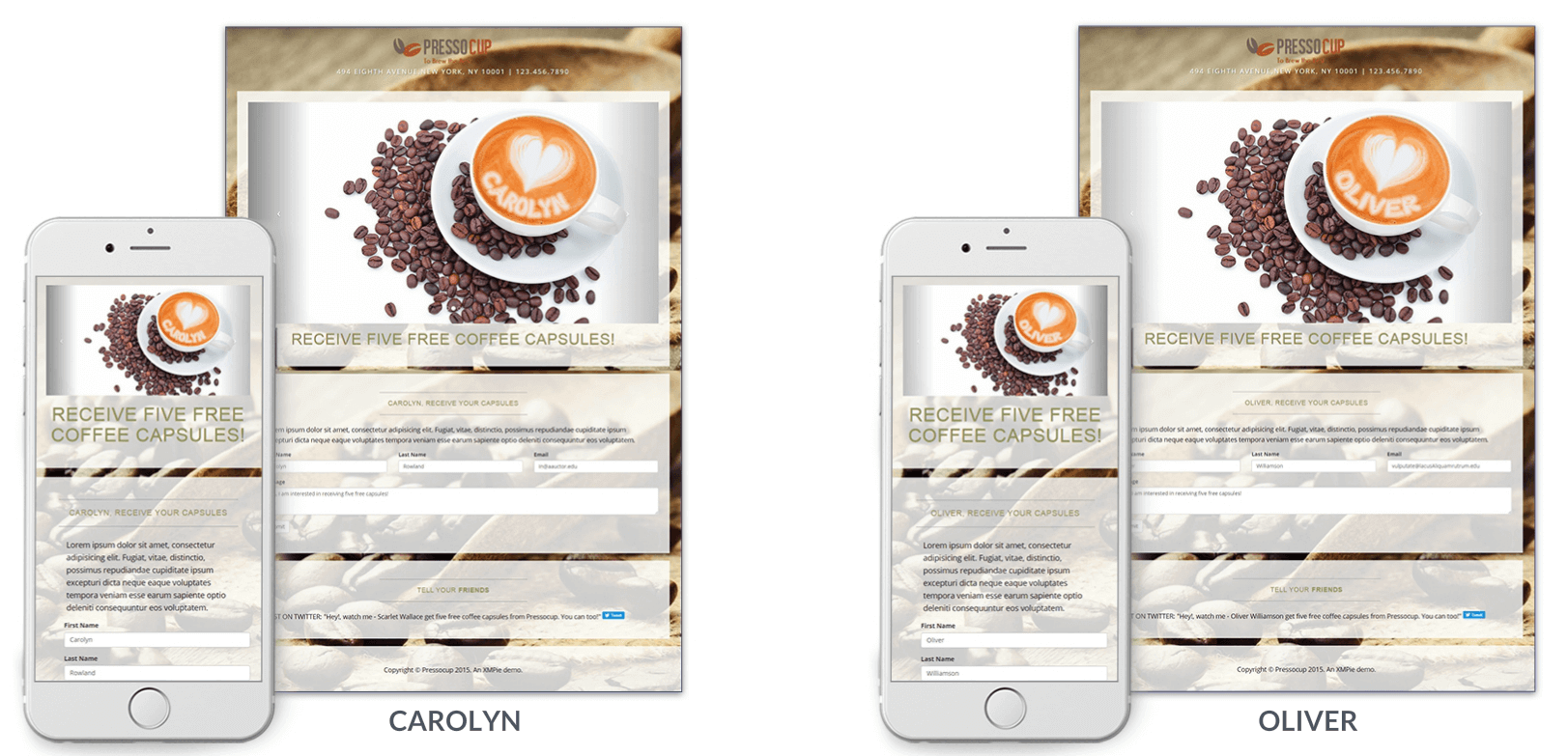 The PURL also has social media links encouraging the customer to share the promotion with friends on Twitter or Facebook.
Personalized Packaging
In this campaign, Pressocup invites its customers to customize their own coffee bag. During this promotion period, each purchase of a bag of Pressocup coffee entitles the customer to receive an additional personalized coffee bag for free. Pressocup believes that once customers experience its coffee flavors a few times, they will keep coming back as satisfied return customers.
To get a personalized bag of coffee, the customer will head to a web page designed specifically for this campaign. They will select their favorite coffee flavor, fill out an address form including the purchase code on the back of the already purchased bag, and add the personal message and decorations that they would like to appear on their free bag.
Once the customer completes the design, they are directed to a personalized confirmation page with all details of their order.
Then they can look forward to receiving a very special delivery: A coffee bag that will greet them personally each time they go to open it.
We know that customers today request a consistent and rich web experience regardless of the device they use to interact with the brand. In our example, the Pressocup bag design website was created as a mobile-friendly responsive website using XMPie's Open XM technology.
In this digital world, print pieces still pack a punch: Everyone likes to see their name in print. Digital media combined print with can reach wider audiences and forge stronger customer-brand relationships.
Stay tuned for the next installment in our customer lifecycle blog series in which we'll be covering the 'repurchase' stage.
If you'd like a live demo of any of our software, please get in touch.