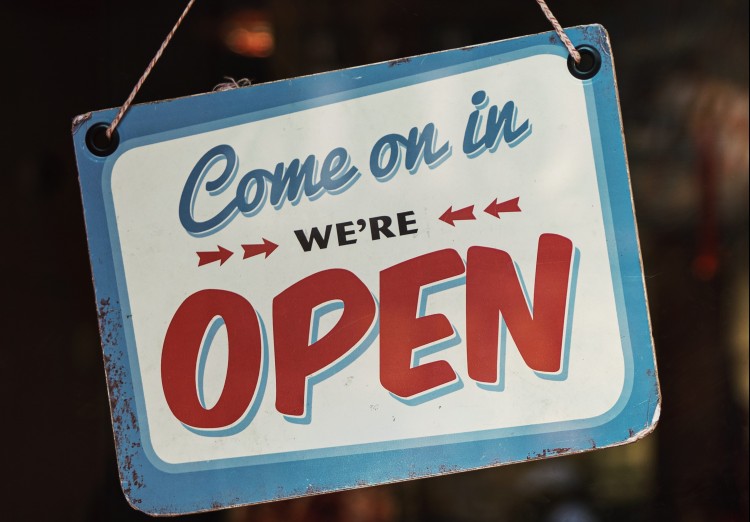 As restrictions imposed by the worst pandemic in living memory begin to be lifted, many businesses are being allowed to cautiously re-open.
Among the businesses that have suffered the most are the small, local businesses that depend on in-person visits to make their sales. Think about the businesses in your neighbourhood that have been closed but are now opening up: restaurants, fitness centers, hair and nail salons, dentists and opticians, leisure centers and cultural venues and many more.
Businesses like this are going to need help in getting back to business. Not only special signage to maintain a safe environment, but also marketing support to attract customers back and re-build lost sales.
XMPie users are ideally placed to help these businesses. By offering simple, effective, good-value direct marketing and omnichannel campaigns, you can help these businesses find new customers and get existing customers to return.
Show people the way and they will go
Creating a campaign to help restart a local business is not difficult, but there are some ways to give your campaign more impact.
First, the campaign objectives will be simple – get people to go somewhere and buy something!
A sure-fire way of gaining attention, awakening interest and driving action is to show the recipient the way with a personalized map. Even the most basic of direct marketing techniques, like a postcard with a message, an offer, and a voucher can be boosted by the addition of a personalized map. It's a proven way of increasing response and improving ROI – one A/B test with and without maps had a 63% higher response with the maps.
XMPie customers already have access to a powerful, easy-to-use and cost-effective tool to create personalized maps – the XMPie Mapping Service.
This online, self-service application is powered by technology from geomarketing experts, locr GmbH of Germany. It is ideal for small campaigns of up to 10,000 recipients, and enables you to customize map designs, add custom icons to mark brand locations, refine and enhance address lists, and download personalized map images straight into your production workflow.
You can use maps in a variety of ways: for your own marketing to customers, create samples for customers, run test campaigns and, of course, use personalized maps in your live customer projects.
Do you have customers that need to grow their sales again after weeks or months of little foot traffic or temporary closure? Are there businesses in your neighborhood who could benefit from a geomarketing campaign to drive traffic to their location?
Now is the moment to put this resource to work.
Take the locr BACKpack with you
To help you get started, we at locr have created the BACKpack. It is an all-in-one toolkit for building direct mail campaigns that include personalized maps. Whether you're just at the planning stage or are already needing to provide rapid responses to customer requests, the locr BACKpack is a dedicated geomarketing toolkit to help businesses on the road to recovery.
What's in the BACKpack?
Portfolio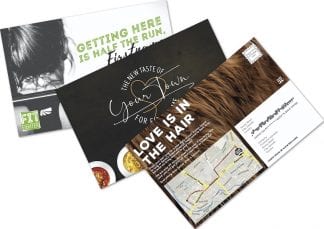 There is a portfolio of mailer examples and design templates made in a simple, cost-effective large postcard format. They cover a range of walk-in businesses such as restaurants, fitness centers, hair and nail salons, cinemas, retail stores and opticians.
At locr, we don't offer design or print production services ourselves – that's your job – but the examples that we've made up for the BACKpack are to give you inspiration and ideas. They are free to copy, adapt, show your customers or use how you want.
Guide Book and Expert Advice
The locr BACKpack comes with a handy guidebook that outlines the basic steps to creating brilliant geomarketing campaigns that will deliver results without costing the earth. You can download it right now. We will also provide any expert advice you may need to create effective direct mail campaigns with personalized maps and geodata.
Map Creation Tool
XMPie Mapping Service gives users a fast, easy way to create personalized maps.
This service, which is powered by the locr BATCH Tool, creates personalized maps from customer address data. You can either sign up for the XMPie Mapping Service via your XMPie sales representative, or you can access the BATCH Tool directly from locr. Check out this short video introduction to the BATCH Tool.
To find out more about the BACKpack visit www.locr.com/backpack or register for the upcoming XMPie webinar on June 30th. The webinar will also cover other ways in which you can create personalized or customized maps, including fully integrating maps on demand within XMPie PersonalEffect StoreFlow.