Enter the world of one-to-one communications
Create personalized, visually-rich VDP jobs on your desktop.
An XMPie Plug-in to Adobe InDesign.
Creatively blend design, data and logic using an intuitive drag and drop interface within the InDesign environment.
Supports a variety of variable data output formats.
XMPie output is neutral to the print engine and supports a wide variety of variable data output formats such as PPML, PDF, PDF/VT and more.
Offers a seamless migration path as your VDP business grows.
Compatible with uDirect Studio and the XMPie PersonalEffect server-based product line.
Any InDesign document can be personalized. Replace static graphics and text objects with dynamic images and stories that are of interest to your different customers based on simple rules or logic. Work in InDesign and output to VDP efficient output formats.
Print Design
Design professionals can quickly and easily create, edit and update variable layouts, all within industry-standard Adobe InDesign, reducing the learning curve.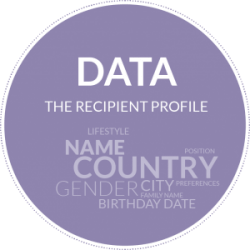 Data
Link to a data source such as an Excel or CSV file to connect data with text, graphic and style elements to create a variable design.
Logic
A simple, menu-driven approach helps both novice and expert data professionals define if-then-else conditional logic without the need for high-level programming skills.  With the 'Audience' feature you can easily divide customers into different Personas, each with its own campaign logic and rules and with messaging and offers adjusted to the attributes and parameters of each.  
Production
With just a few clicks of the mouse, your print-ready files can be sent to your print service provider without leaving the familiarity of InDesign. uDirect supports a wide variety of efficient output formats including Adobe® PDF, PDF/VT, Adobe® PostScript, PPML and more.
Create a complete VDP campaign from conception to production: