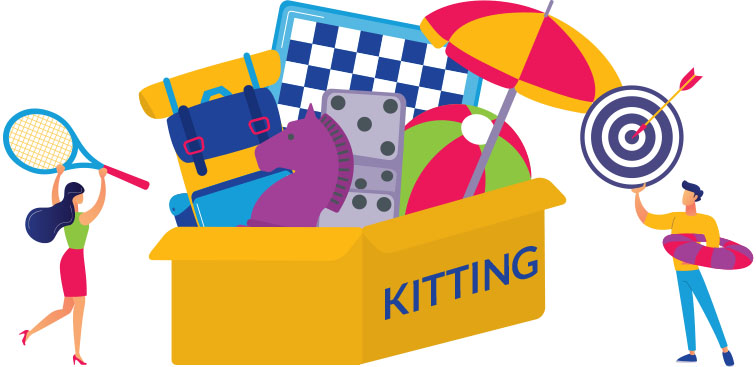 People today have learned to expect a frictionless online experience anywhere they go. Whether they're shopping for their personal needs or going online to purchase goods and services for their business – the shopping experience must be easy, intuitive, and include as few steps as possible before checkout. Otherwise, shoppers will consider taking their business elsewhere.
PersonalEffect StoreFlow was built from the ground up with a focus on the user experience, enabling service providers
to offer customers a quick and easy Web-to-Print experience when ordering and customizing branded print materials.
One StoreFlow feature that really helps deliver an efficient and user-friendly shopping experience is kitting: bundling together a group of products that share a common use case.
Let's say one of your regular customers is a real-estate agency. After years of delivering personalized print materials to this customer, you decide to make the ordering process a lot easier (and increase order volume and frequency) by opening an online store dedicated to this agency.
With kitting, the store administrator can put together a "home selling kit" with everything that an agent would need to promote a property: postcards, flyers, window cards, a "for sale" front driveway sign – all personalized to the agent, displaying her name, headshot and contact details.

From the agent's perspective, these items are all related. As soon as she selects this kit and uploads her personal information, she can proceed to checkout. She needs to type her contact details only once: all other print materials in the kit will be automatically customized to accurately present her details.
The entire ordering process takes just minutes, since the agent doesn't need to browse the store for individual products and manually select and customize each of them. But kitting is not just about time savings: it's also providing the people in the field with everything they need to help seal the deal, as well as ensuring brand consistency across all reps.
Another great example for kitting is new employee kits. We all know this: HR managers want to make new hires feel at home right on their first day. A common practice is providing them with a pampering and personalized welcome kit. Using the kitting feature on StoreFlow, everything that the hiring manager needs to make that first impression is already set in a pre-defined kit, with things such as a personalized coffee mug, business cards, stationery and an orientation booklet.
The examples shown so far illustrate how kitting can be used to offer bundles of products that typically go together. But that's not the only use of kitting. Kitting also enables users to make bulk orders of multiple products in a single online order. This feature is catering to businesses that need to frequently replenish their stock of print materials.
Think of a fast-food restaurant chain, for instance: all branch managers use the same branded print materials (menus, placemats, roll-ups, employee caps and t-shirts, etc.), but each branch manager needs different quantities of each item, based on their current stock. In addition, most materials need to be customized for each branch, with details such as store address and opening hours.
Using the Bulk Order Kit, the restaurant chain puts together a kit with all the print items that individual restaurants would typically need, enabling local branch managers to choose the desired quantity of each ordered item, which is then deducted from their marketing budget. As in all other kits – customization is done only once, immediately affecting all print materials in the kit.
There are two ways to appreciate the value of kitting: from the point of view of your customer's end-users, it's a convenient way to wrap-up their ordering quickly. For you, the service provider – it's a great way to show your customers that you really understand their business, all the way down to the individual sales rep.