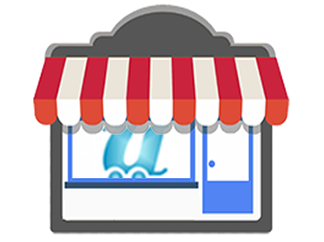 uStore Connect NG
uStore Connect is a technology which allows integrating the VDP workflow of uStore into 3rd party systems, such as e-commerce.
uStore Connect is now available in the NG technology, including the NG look and feel, theme editing, theme development, kitting and 3D products.
Access to websites using non-www URLs
It is now possible to access a store by omitting the www prefix.  For example: StoreDomain.com
This requires that the store-friendly URL option is enabled for the store, and that www.StoreDomain.com is defined as the store domain.
After an upgrade this will automatically be applied to all existing stores. Read more
Version 13 – Redesign of static product & other enhancements
Released August 16, 2020      |      Watch a short video overview
Static product redesign for a better user experience
The static product is redesigned for a better, faster and visually appealing user experience.
The new design allows the shopper to complete the product ordering process on a single page that boasts a big preview, a price calculator and a prominent proof approval page. 
New Authorize.net API
uStore supports Authorize.net's latest API.
Authorize.net AIM API is now obsolete and is in the process of being phased out. If you are an existing customer, you may continue using AIM, however it is recommended to switch to the new Rest API.
Read more about Authorize.Net
Downloadable kit components
It is now possible to download the component of a kit from the store's Order Details page, provided the component was configured as a downloadable product (the "Allow Download after Purchase" option was enabled for the product).
FreeFlow Core support
uStore supports the new version of Xerox FreeFlow Core – version 5.4.4
Please refer to the FreeFlow Core release notes.
Version 12.3 – API and small enhancements
Released May 17, 2020
Version 12.2 – administrator visibility to Upload file
Released April 7, 2020
Administrator access to Composite product content
The administrator has more visibility to the content of the Upload file of a Composite product from within the Back Office:
The Upload file can now be downloaded in its original file format.
The preflight results, as seen by the shopper in the Storefront, are now also accessible to the administrator. This can help identify potential production issues in advance.
Upload file replacement in Composite product
The administrator can now completely replace an Upload file of a Composite product, after it has been ordered.
In case there is a need to modify the file, this option enables to quickly replace it, without having the customer go again through the entire process of submitting the order.
All properties and setting, as defined in the Document Builder by the customer, are maintained and applied to the replaced file.
Set new shipping price
When creating a shipment in the Back Office, it is now possible to modify the shipping price that was shown in the Storefront with the actual price. This price will also be reflected to the shopper. 
Version 12.1 – uStore NG support for B2C stores

Released January 26, 2020
Product and category direct link
Category and product pages in uStore NG stores now have direct links.
This allows to bookmark the product and category pages, as well as to easily share them in email and social media.
In a B2C store, the link leads directly to the product/category page.
In a B2B store, if the shopper is not signed in, only after login will the shopper land on the linked page.
Support for Microsoft Edge
uStore supports the new Microsoft Edge browser (version 79) based on Chromium, for its online stores.
Version 12 – 3D product visualization

Released November 25, 2019
uC3D – 3D Product visualization
uStore brings the ability to visualize dynamic products in 3D.
A stand up pouch, a label on a bottle, a carton box and a business card with gold foiling, to name a few, can now be better perceived in 3D.
The new uC3D technology supports personalized designs, dynamically added flexible-packaging finishing, such as zipper and valve, dynamic embellishments like embossing, cutting and hole punching, selective lamination, hot foiling, holographic effects, and more. 
File attachment with PDF Preflight
uStore allows a shopper to download a dieline, design within it using Illustrator or other tools, and then upload it as a PDF.
The PDF can run through a preflight process to prevent production errors. If an error is found, a report is issued, highlighting the errors on top of the PDF.
This workflow is provided in the Customization step and in the Finalize step, by the File Attachment control.
The preflight profile can be generated using Adobe Acrobat DC or Callas pdfToolbox, and configured via FreeFlow Core.   Read more
FreeFlow Core support
uStore supports the new version of Xerox FreeFlow Core – version 5.4. 
Please refer to the FreeFlow Core release notes.
Version 11.1 released September 2, 2019
Maintenance release
Resolved kitting issues.
FreeFlow Core support
uStore supports the new version of Xerox FreeFlow Core – version 5.3.0. 
Please refer to the FreeFlow Core release notes.
Version 11 released July 31, 2019
Kit product
uStore introduces a new product type: Kit product. A Kit product is a collection of various products which are grouped together to be sold as one single offering.
A kit enables the shopper to order multiple products in one order. Using the kit, the shopper experiences a quick and efficient workflow: with a single click, the shopper can place multiple products in the shopping cart, instead of having to browse the store in search of these items. In addition, if the kit contains multiple dynamic products, customization is done once for the entire kit, and there is no need to customize each product individually.
Kits are prepared by the administrator, and the user does not need to figure out or remember which products need to be ordered. Also, the kit product is optimized for repeated orders and tracks inventory levels of the included products.
Edit submitted orders
Shoppers can now edit submitted orders for which fulfillment hasn't yet begun.
Editing an order cancels the original order, lets the customer make any necessary changes, and then resubmit the order.
Operators can also edit an order on behalf of the shopper.
Order fulfillment properties
While fulfilling an order, it is now possible to add ad-hoc production information for the ordered item, on top of the information provided by the customer via product properties.
This can be useful in the following cases:
You'd like to provide production instructions to the production workflow, presented in the job ticket of the order item.
You'd like to update an unexpected fulfillment cost for an order item, which will be available for reporting.
This can be done by adding global properties to an order item and assigning values to them.
Select products to check out
You can now select which items to check out in the shopping cart. The unchecked items remain in the cart.
Auto-generated PDF thumbnails
When creating a static product with a PDF document, thumbnails are now automatically generated from the PDF.  The first two PDF pages (or any number that you'll set) will be automatically converted to JPG thumbnails, so you no longer need to upload them manually.
Version 10.0.1 (5644) released May 19, 2019
Product list infinite scroll
The product list page shows all the products with an infinite scroll, loading more products as you scroll down.
Shipping tax
Calculation of the shipping tax takes into account the different tax rates of products within a shipment. This results in a lower tax in case the shipment includes tax-exempt products. Read more
Version 9.3 (4918) released May 27, 2018
GDPR (General Data Protection Regulation) Compliance
Additional GDPR features have been added:
The operator can download all data about a shopper, upon request.
The operator can delete all stored data related to a shopper (except for submitted orders).
Download the update from uStore Presets > XMPie Services > Check for new updates.
This feature is available with update #814 for version 9.2.
See GDPR Guidelines    |    Read the help in   English   Deutsch   Français
GDPR (General Data Protection Regulation) Compliance
Stores can be set to support GDPR:
Shoppers have to approve that each uploaded recipient list is GDPR compliant.
Recipient lists are deleted after 30 days.
Download the update from uStore Presets > XMPie Services > Check for new updates.
This feature is available with update #770 for version 9.0.2 and update #790 for version 9.1, and requires uProduce GDPR patch for PersonalEffect 9.2 / 9.1 / 9.0.2 / 8.2.3.
See GDPR Guidelines    |    Read the help in English   Deutsch   Français